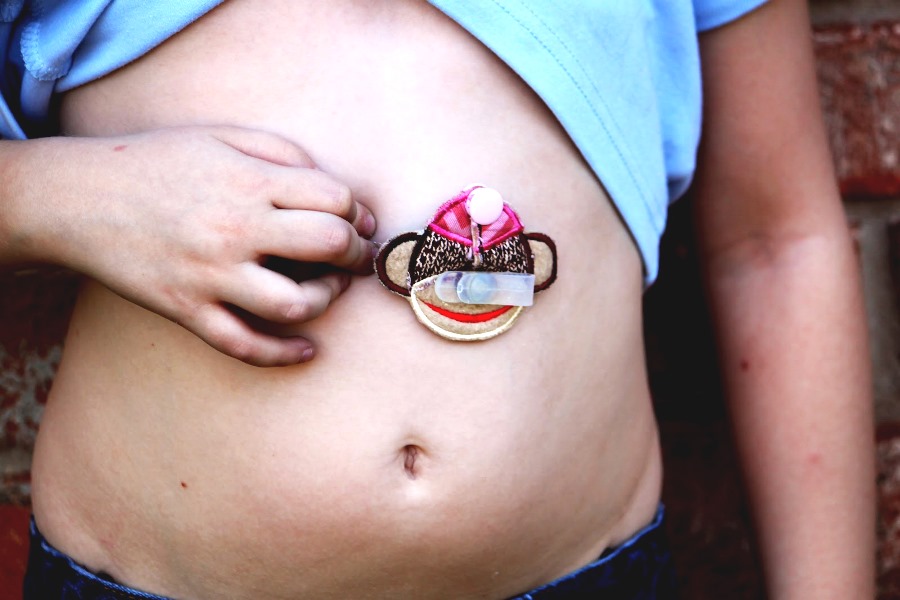 Keeping a feeding tube secure, clean and safe is important but can have a fun twist. Many feeding tube accessories are available, created by caregivers and manufacturers to secure the tube and make life with a feeding tube easier and more fun. From FDA-approved retention tape for NJ and NG tubes, to onesies with built in ports for efficient G-tube access; comfort and security is available for children in kid-friendly designs.
Button pads protect the skin around the feeding tube against irritation and moisture and are washable for safe, continued use. Not all children need to use a dressing or button pad with their feeding tube. If your healthcare professional has suggested the use of a dressing, reusable and washable button pads can be a comfortable, fun and environmentally-friendly alternative to gauze.
Homemade covers and belts can be worn under the clothes, help secure the g-tube to prevent snagging and to promote safe patient activity by containing all parts of the button and tube.
Tip: Remember to keep the skin around the tube clean and dry. Always change the dressing as soon as it becomes wet or moist.
Available from Abilitee Adaptive Wear 
...
Adaptive Clothing
Stylish clothing made with access points for efficient G-tube access, making feeding easy on-the-go.
C. C. Moo, Lotsa Brave People, & Abilitee Adaptive Wear
Read the full article on Shield Healthcare
Sarah Sanchez, NDTR Product Specialist | Shield HealthCare
09/14/17  2:27 PM PST